What mums and mums to be say about Mamafit®
Vicky, mum to Henry
I started Mamafit when I was 16 weeks pregnant, my son Henry is now nearly eight months old and we are still going to the session at Kensington Children's Centre. I have enjoyed every minute of Mamafit and found it extremely useful. During pregnancy I was concerned about a previous lower back injury. During Mamafit Rob provided exercises specifically designed for pregnant women that really helped strengthen my posture and therefore help prevent problems with my back during pregnancy.
The post-natal mother and baby classes are also great fun. I had a caesarean with Henry and so was worried about exercising post this but was keen to lose the baby weight. Again Rob provided exercises that were safe after the caesarean. It's brilliant being able to take your baby along. Henry loves coming along as he gets to roll around on a mat with other babies. I will definitely be going to Mamafit with my next baby!
Michelle, mum to Jos
As a fit an active person I had the intension to continue to exercise during pregnancy. However, due to going through IFV I was advised not to continue with this type of exercise even once pregnancy was confirmed. I was unsure what I could and could not do and how I was going to stay fit and healthy. Attending Mamafit antenatal classes gave me the confidence and awareness of my own body and great advice on what I could and could not do. This allowed me to exercise not only at classes but at home too. I also found the advice on diet to be most useful as there is lots of mixed information if you were to use google.
After having my baby I also attended the postnatal course and drop in sessions. Again these were tailored just right in getting confidence back up in order to exercise the classes are totally child friendly and I felt at ease attending all the sessions, there was even the option to attend at a different centre should I have another appointment on that day.
I would recommend Mamafit 100% and feel that other areas should also benefit from such a service.
Theresa, mum to Jack
I attended Mamafit pregnancy and mother & baby classes. Rob is an excellent trainer. He empowers women to exercise safely during pregnancy and covers all other relevant topics such as stress management, relaxation and diet. He teaches us to make small lifestyle changes which will have a positive effect on ours and our babies' health.
What I really valued from his classes is that he encourages you to look after your body and your mind post pregnancy which is something that could easily be neglected with a newborn!
He is friendly & welcoming and his enthusiasm for his job is very clear.
I would highly recommend Mamafit to any expectant or new mother, it's a great way to meet other women and even the little ones seem to enjoy it!
Wishing Rob and Mamafit every deserved success for the future...watch this space!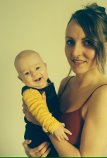 "A lovely course, not too strenuous, just set at the right level."
"Really good way of showing pregnant women how to exercise during pregnancy"
"Opportunity to ask questions - Reassure about what CAN be safely done"
"Learning about posture has really helped my back, I have also showed my 5 year old daughter how to sit properly"
Lynn, mum to Sophia
Before my pregnancy I enjoyed keeping fit mainly running and yoga. I continued to run but found I was getting more tired but I didn't want to give up exercising completely and need some motivation and advice on what I could and couldn't do.
I booked onto an antenatal Mamafit course, which is a 6 week course which incorporates nutritional advice, relaxation and exercising which is specifically designed for pregnancy.
From doing this course I knew what exercises I could do, Rob encourages continuing to exercise at home. He also dispels any myths around pregnancy such as you don't need to eat for two and only need to increase calorie intake in the last trimester. I believe that eating well and exercising throughout my pregnancy contributed to me being healthy and not suffering from any related symptoms.
Following Rob's advice, when my daughter was 6 weeks old I attended Mamafit 4 week postnatal course. This concentrated on the important issues like pelvic floor and posture. Also discussed was advice on making sure you take time for yourself, something you want to do without feeling guilty, so hearing this from somebody else is invaluable. I continued exercising weekly at Rob's drop in sessions. As these classes are aimed for post natal women I knew the exercises were right for me and I wasn't going to do any unmanageable or challenging workouts. The best bit for me is that I can bring my daughter along as there are childcare facilities. I did have concerns that she would scream throughout the class but the atmosphere is really good and friendly and most babies scream/cry/laugh so it's not uncomfortable and it's also a great opportunity to meet other new mums.
I managed to complete in a 5k run when my daughter was 4 months old at a decent time and believe that the regular exercise along with the help, advice and support of Rob enabled me to do this. I hope to continue with the drop in classes until I have to go back to work.
I would definitely recommend these classes, not just for the exercise but for the support and advice that come along with it.
Anna, mum to Ben
I found Mamafit a great way to gently start introducing exercise back into my life after having a baby and Rob was a great instructor - supportive and encouraging at every stage. I found the course content really practical, with lots of tips on how to fit simple exercise into your daily routine, and the sessions are really relaxed, making it easy to attend with your baby too.
Vicky, mum to Charlie
I am a competitive marathon runner, running daily and attending the gym at least 3 times per week; once I found out I was pregnant I wanted to continue exercising but like most women I was unsure if it was safe to exercise and if so what exercises should I be doing?
I received a leaflet from my midwife who encouraged me to attend Mamafit; I am use to exercising at a high intensity and had images of very slow gentle exercise, I did not know what to expect but I am glad I went along to that 1st session!
Joining the class was great, not only did I get to meet other women in the same position; who have now become good friends with babies of the same age, but I learnt about the changes happening to my body and discovered exercises to help me feel fit and strong.
It was helpful that I could attend Mamafit classes during work hours; taking time to learn about staying healthy during pregnancy has been really beneficial.
With the help, support and knowledge I gained from attending Mamafit I managed to keep running throughout my pregnancy; I even completed the Amsterdam Marathon at 26 weeks pregnant, albeit at a slower pace than normal!
I would definitely recommend Mamafit to all pregnant women; whether you are a keen exerciser or haven't exercised for a while the classes are really enjoyable and suitable for women of all abilities.
Book a course you won't regret it!
Steph, mum to Jude
Having always tried to keep myself fit & well, becoming pregnant seemed a bit of a stumbling block!
Suddenly I was unaware of what I could & couldn't or should & shouldn't do for physical activity. I read lots of information about exercise in pregnancy & spoke to my midwife about it. 'You can exercise but don't over-heat' & phrases like that made it difficult to gage what was acceptable.
In a pack my midwife gave me was a leaflet about Mamafit. I was delighted at the prospect of an actual exercise class designed for pregnant ladies. Even more so to think that the classes continue after your baby is born too!
I attended the 6 week antenatal course which was a combination of education & exercise that was great as it is tailored to Mums-to-be so it gives you confidence to exercise. The classes were also a great opportunity to meet other mums to be in the area.
The drop-in sessions after the 6 week course have been fabulous as it's purely exercises. Having Rob teach the class feels like having your own Pregnancy Personal Trainer. He runs the class so you feel you can ask any questions without feeling embarrassed.
Our class had women of all shapes, sizes & differing fitness levels but everyone in the group seemed to get a lot of benefits. It's certainly helped me keep in shape & feel positive throughout my pregnancy.
The great thing is you can do the exercises at home too so there's no excuse!
Thanks Rob; see you at the postnatal classes!
Sam, mum to Hattie
I've just completed my second term of Mamafit GO running classes. Well worth the money and time. Although you are taking your baby with you (which is optional) you still feel that you are doing something for yourself.
This is also because the instructor is motivating and encouraging.
My fitness level improved at the same time as having a laugh with the other mums! Being on a Monday it also sets you up for the week, the group and Rob the Instructor is so lovely.
We have also booked to do the Santa Dash with the other mums in December!
Thanks Rob and mums
Nathalie, mum to Maxine
The postnatal Mamafit sessions have been invaluable. I stopped exercising when I had my first child 6 years ago. During my first maternity leave I could not attend any exercise class as I had no one to look after my child or felt guilty at the thought of leaving her with someone else.
Mamafit has enabled me to start exercising again after the birth of my second daughter. Being able to have my baby with me helps me feeling more secure and less anxious.  The support I gained from Rob our instructor has allowed me to build up my confidence and my fitness level.  I now exercise more as a result by walking my daughter to school more often and attending Mamafit regularly.  Even though I have only been attending Mamafit classes for a short time I can already feel the difference and my lifestyle is starting to change.
If it hadn't been for Mamafit I would not have started exercising again and I would not have started losing weight and feeling better about myself. Vive Mamafit!
Vicky, mum to Olivia, Charlotte & Evie
There's nothing quite like the sight after having your baby as to look down and see a big layer of wobbly flab where baby used to be!
I was keen to start exercising quickly after having my daughter, but I was nervous about what I could and couldn't do. Having attended mamafit when I was pregnant, I was looking forward to starting the postnatal mamafit group.
My main concerns about exercising after having a baby had been - what do I do with the baby? I don't have any relatives nearby and I started to really miss being able to exercise. I did lots of walking with the pram, but I was aware that I wasn't really targeting some of the areas that I really wanted to. I was keen to do abdominal exercises but felt like I needed some advice on which exercises were best for new mums.
Rob gave out very sensible advice about immediately after childbirth - mainly pelvic floor and posture, but as soon as I could I booked onto the mamafit postnatal course.
Mamafit was brilliant. Not only was it a really good way of getting back into shape, it was also a great way to meet new mums.
The exercises were easy to follow and Rob gave us advice to what to do at home. The hand outs were particularly useful reminders for this. I noticed improvement almost immediately I started to feel more toned and felt more confident with other forms of exercises.
I soon began to look forward to look forward to my Wednesday mamafit sessions.  As the sessions are held in a children's centre, it was great to combine it with going to a baby group. As we got to know each other better, we all started staying for the healthy lunch afterwards.
What about the babies? I had big reservations about this. However it worked really well, I was so sure that Lottie would just cry for the entire hour, but instead she seemed to enjoy watching us doing various different exercises.
The groups are very relaxed, there is usually one baby crying at one point or another, if you need to go and change a nappy or give the baby a feed, it really isn't a problem, you just come back and join the group when you can!
I was surprised at how much we all managed to do; the babies seemed entranced by us and the other babies. One of the most special things for me was watching all the babies grow and develop each week.
After finishing the course, we'd all enjoyed it so much that we decided to keep coming to the drop in class. When I think back over Lottie's first year, I remember the early days with her lying in the pram, to sitting up in the pram and then eventually sitting on a mat with other babies playing with/ fighting over strategically placed toys whilst us mums exercised!
I'd highly recommend mamafit postnatal classes to any new mum. The combinations of exercises are well designed to target all areas and leave you feeling energised and fit. Rob varies the exercises each week so there is never an opportunity to get bored or complacent!
"It's been very helpful. Thanks for bringing back my confidence after having my baby"
"I feel good and encouraged to exercise alongside being a mum, I am really happy"
"Thank you very much for the course it has been thoroughly enjoyable and has helped me"
"Doing Mamafit has helped me with exercising around having a child"
Kath, mum to Olivia
I began a postnatal exercise class with Rob at a Sure Start Centre 3 or so months after the birth of our daughter. I had undergone an emergency Caesarean Section, and had been struggling with complications from the subsequent wound. I was keen to start exercising again (though nervous about turning up to a class where I didn't know what to expect), but was concerned about whether the instructor would understand my situation and be able to advise me wisely about exercising without causing injury/further complications. Also, since I'm new to being a parent, I couldn't conceive of how on earth I'd be able to do a class with a young baby at my side!
In need not have been concerned about any of these things. The class was really welcoming, and a great way to meet other new mums whilst trying to get back in shape together. There's such a range of abilities, so if you arrive with dubious techniques (such as I did), or no techniques, you'll not feel conspicuous/the odd one out. Furthermore, Rob had a clear understanding of the impact of the surgery, which meant that I could join in with everyone else and feel confident that I wouldn't do any damage if I did as he explained. The babies play with toys at our sides, sleep in their prams if they're due a nap, can have a feed at any point, but are often distracted by laughing at their mums attempting to exercise.
I can't commend the classes enough for helping you get back into shape, understand your body, regain confidence, meet new people, and giving your baby chance to socialise too.
Vicky, mum to Livvy, Lotte & Evie
I'd got to the end of the first trimester and I was feeling a bit fed up. I was only just about able to squeeze into my clothes and although the nausea was settling I still felt like I had absolutely no energy.
I'd previously been someone who liked to keep fit, so I didn't particularly like to feel so lethargic and wobbly!
The problem was that I felt in a vicious cycle. The less I did, the more tired I became and the more weight I put on, the more difficult I found it to motivate myself. It doesn't help sometimes when everyone around you seems to suddenly feel the need to feed you up "Ooh, and one for the baby" and tell you to rest and not do any exercise.
I got to a point where I didn't feel pregnant, just untoned and "flobby".
Happily, at this point I heard about mamafit. A set of classes designed especially for pregnant women. It covered all aspects of lifestyle in pregnancy, including healthy eating and exercising.
The classes were great fun - it was great to meet women in a similar position and learn the truth about what you should be eating and doing in pregnancy, dispelling a lot of those myths we've all been told.
The exercises were brilliant; they were pitched at exactly the right level. Part of me was worried that I'd suddenly be asked to do zumba style dancing and would look like an idiot as loads of really fit women showed me up, however another part of me was worried that it would all be a bit too easy and I wanted to get some form of fitness back.
I needn't have worried; the classes are designed really well, so that initially you learn about posture and core strength. There are really clear explanations so that you know exactly what you need to do without getting it wrong. As the weeks go on, it does get a little more challenging but Rob, the instructor is excellent at making it appropriate for everyone.
I was so pleased to see that after a few weeks, I started to feel my normal self again. I stopped eating rubbish food just for the sake of it and I started to feel like a healthy pregnant woman rather than a fat blob. People commented on how good I looked.
Even so, people still tried to feed me up and questioned me when I said I was going to exercise, "but you're pregnant!" I felt reassured by the information that we got in the class about the safety of exercise in pregnancy. I realized how beneficial it was to keep strong and fit, and what a good preparation for labour it was.
I'd previously had some lower back pain, but as the pregnancy advanced my back felt stronger than ever before!
As for the delivery, I had a quick and enjoyable labour. The midwives commented on my strong abdominal muscles and I did feel that being fit certainly prepared me.
I'd certainly recommend exercise to all pregnant women, it made a real difference to me and mamafit is an excellent way of getting started, or getting better if you already do some.
Charlotte, mum to Daniel
I started to attend Rob's weekly post-natal classes five months after having my baby, Daniel, and attended them for five months before returning to work. They have made a huge difference to the way I feel physically, with a particular improvement in my abdominal muscles (which felt non-existent after pregnancy!). The exercises really help to develop core strength, so that I now feel far less strain in my shoulders and back from looking after Daniel than I did in the early months.
I was slightly apprehensive about the idea of a fitness class, but the relaxed and supportive atmosphere is perfect for easing you back into exercise and helping you to get back towards pre-pregnancy size and shape. It's great to have a regular activity that gives you chance to focus on yourself, but where taking the baby along is no problem – a hard thing to find when you're a new mum!
I wish I'd known about Rob's ante-natal classes too, and I would whole-heartedly recommend him to all new mums and mums-to-be.