What our clients say about us
Georgina Wood
I initially booked a course of 12 PT sessions with Diverse Health and Fitness; those 12 sessions turned into 3 years of brilliant training with a Rob through a wedding, an injury, a pregnancy and now (fingers crossed) marathon training.
I wasn't unfit and went to the gym regularly when I first started working with Rob, but we focused a lot on posture, core and really thinking about engaging the correct muscles for exercise. My training increased in intensity in the run up to my wedding and we added ViPR exercises to the kettlebells and running I was already doing outside. By the time I got married in July 2012, I was stronger and in better condition than I had ever been and felt great in my wedding dress!
Shortly after my wedding I sustained a foot injury and was having weekly physio sessions. I still trained with Rob twice a week and we focused on injury rehab and strength exercises. I have to say, I did a lot of complaining during those sessions, but thanks to Rob's knowledge, professionalism and persistence my injured foot improved greatly and I was able to re-introduce running and other impact training into my regime a few weeks later.
I actually discovered I was pregnant after a sprint session at Otterspool Prom! I was still sprinting and doing press ups 4 days before I went into labour. Rob has great expertise in the area of pre and post natal exercise so I was very happy to keep training several times a week and those sessions really helped me to have a problem free pregnancy.
Now my daughter is 7 months old and I am almost (I think!) back to full fitness. I went back to the gym and PT 6 weeks after Lily was born and have also been attending Mamafit classes run by Rob. I don't have as much time as I'd like now to exercise, but because I trained throughout the pregnancy, in the gym as well as doing PT, I was able to maintain a good level of fitness and was confident that Rob has the experience and knowledge to help me safely regain my pre pregnancy fitness and shape.
I absolutely love training with Diverse Health and Fitness. My overall mental and physical wellbeing has improved hugely over the last 3 years. Even when Lily has been awake all night or I've had a terrible day at work, training outside at Otterspool makes me feel 100% better about the world! I now see exercise and nutrition as part of my everyday life, and that, I hope, is something that will stay with me forever.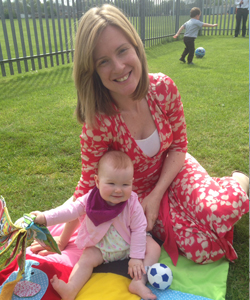 Adam Weighell, Juice FM Breakfast Show DJ.
For someone who has never fully believed in personal training and thought it was a waste of money, I am now a convert!!!!
Rob helped me get ready for an 88Km trek across the Grand Canyon! With his help I was able to complete the trek without breaking a sweat! (that's a white lie, but I did complete with a smile on my face).
He's great at motivating and encouraging and has changed my outlook on training! THANKS ROB!
Suvi Salonen
It is great to witness someone doing a job they thoroughly enjoy and are therefore excellent at and Rob at Diverse Health and Fitness falls within this rare group. As my personal trainer, Rob struck the perfect balance between facilitating friendly, relaxed and fun training sessions and having the perfect amount of assertiveness to ensure I stayed focused and got the most from each session from start to finish. Rob's attention to detail and his structured, holistic approach to not only training but your overall health and wellbeing including nutrition meant that the optimal results were achieved - I would not hesitate to recommend Rob/Diverse Health and Fitness to anyone looking to get in shape and improve their general wellbeing. Thank you Rob for everything you've done for me!
Jill Spencer
When I first arrived in Liverpool last October, I had left my friends, my family and my work behind for a new job.  Life was pretty stressful and chaotic – we were buying a house and planning a wedding whilst living apart.  By January, life felt pretty dark.  I was stressed and exhausted from broken sleep.  My life had lost all routine; I hadn't exercised in months and felt physically drained.
I decided I needed to exercise my body and not just my brain.  I scoured the internet for a personal trainer and came across Rob.  There weren't loads of reviews, but where people had written, it was with real thought and detail, and it was clear how highly they thought of Rob, and how significant the impact training with them had had on them.  I was impressed by the tone and content of his website and the warmth and enthusiasm of his reply when I contacted him.  From a professional perspective, I was impressed that he had identified a need to focus on maternal health during and after pregnancy and had managed to put together a scheme to facilitate this; evidence to me that he was motivated and considered in his approach, with a focus on overall health and not just body stats.
I met Rob in a café to talk about what I had hoped to achieve.  Little did I realise that he was scoping me out to see whether or not he could work with me.  Not in a bad way, but Rob has identified that successful personal training is not so simple as an exchange of money for skills, but requires an understanding of individual goals, and trust and appreciation of the expertise behind the approach that he takes.  Truthfully, if you are motivated by the standing on the 'sad step' (scales) and measuring your bicep circumference, or by being yelled at then Rob isn't your man.  If you want someone to help you work out how to make exercise part of your routine, with sustainable lifestyle changes whilst challenging and encouraging you, then that is very much what Rob offers.  He has incredible patience and good humour and a real love of his work that is borne out in an approach that is varied and enjoyable.  This year I have worked on strength and cardiovascular fitness, which has included learning how to run properly.  I can see a definite change in my physique and fitness, and after a few months of stubborn determination I'm actually learning to enjoy running!  I haven't weighed or measured myself in that time, but am reaping the benefits.
So, this story has a happy ending.  When I first met Rob, insomnia was driving me to distraction.  Since building exercise into my routine, I now sleep much better, which has allowed me to enjoy life much more.  On 1st October, I got married in what can only be described as the best day of my life.  Though not my primary motivation, it was clear from the photos between choosing my dress in January and wearing it in October how significant the changes had been.  I felt great, and for that alone I will forever be grateful to Rob, who is now someone I consider a friend as well as a trainer.
…and so it continues.  Training with Rob has had such a positive impact on my life I have every intention of continuing on.  My next goal is to run 5k in less than 30 minutes  and keep fit and healthy as the white hair and wrinkles descend!
By the way, I was a little put off by the thought of outdoor exercise, especially in winter.  I am a total convert and will never pay for gym membership again.  I can't recommend Rob highly enough – if you want to get fit and eat well whilst being challenged, motivated and supported, he's the person to help you.
Win Lawlor
Despite having worked out regularly in the past, when I began working with Rob last summer I hadn't done any kind of exercise for nearly two years due to the fact that I had been caring for a family member who had suffered a serious injury, and was undergoing long-term rehabilitation.
That was all going great, so it was time to start getting healthy and doing something positive for myself, however, I had lost all motivation, drive and energy to help myself, whilst gaining over a stone and a really bad carb habit!
Meeting Rob for the first time was great, sitting in a cafe talking about what I wanted really allowed me to focus on what my own goals for fitness were, the questions he asked were great for focussing my motivation and getting to know each other, so I knew we could work together - and I could do sitting!
What is fab about working with Rob is that the whole thing is about teamwork; Rob has a way of getting the most out of you whilst making the whole experience positive, no shouting and yelling, just solid motivational support.
I have learned so much working with Rob, despite having been a runner and a regular gym member, using both classes and fitness suites, I had always been prone to a bad back - Rob showed me that was because I had always used my strong arms and legs and not utilised my core, the result being that I am now feeling stronger than I ever have, and I've not had to visit my physio in nearly a year!
Rob's skill set means that as well as being able to support you to get fitter, his knowledge of nutrition works to ensure that you are healthier inside and out! I am working on that carb habit, and am slowly winning, wearing clothes I haven't been able to for 18 months and being able to start to run again - AND knowing I am healthier for the future.
Rob's commitment means that training's not just about short term goals, I still see Rob once a month, something that keeps me focussed and helps me to keep developing goals for the future, and gives me a yardstick to measure my improvements by - I now plan my exercise throughout the week, and am in a place where if I don't do any I miss it, so I have my self-motivation back, no more sitting for me - thanks to Rob
Neil Boyd
I met Rob through my gym membership in Liverpool City Centre. I had been at the gym for a number of years, and had a decent level of fitness. But I was finding it difficult to lose the weight.
So I took up a 10 week one to one course with Rob at the beginning of 2011. I agreed certain goals, and also a change of diet and training regime.
It was hard work but Rob is a great motivator and the weight soon dropped off, and I achieved all my goals by the end of the course.
I have maintained my weight loss and my fitness levels have improved.
I now see Rob on a monthly basis to maintain my present level and in the New Year I am aiming to improve again.
If you are looking to change and improve your lifestyle I can heartily recommend Rob to you. It is hard work but well worth all the effort.
Danielle Johnson
I searched for ages to find someone who offered post pregnancy training, as after having 2 c-sections in 20 months and never really exercising in the past I needed help to get my stomach muscles back and to lose the baby weight. Diverse Health and Fitness seemed to offer that.
When I first met Rob he was so easy to talk to and I felt he really wanted to find out about me and my lifestyle so he could work out the best regime for me. Over the next few weeks I really started to make progress and actually started looking forward to our training sessions (which is something I thought I would never say as I hate exercise) Over the next few weeks people started to notice the difference and I was feeling much better and more energetic than before. Rob is a great trainer and would put anyone at ease. I would recommend Rob to anyone. He really made me change the way I think about exercise and my posture before starting each and every exercise movement.
Thanks Rob good luck for the future!
Rita Parkin
Last year I was feeling fat, frumpy and dreading reaching the big 50 next year. I'd had a rough few years looking after my father; I realised that I'd let myself go and my confidence had taken a knock. A friend had recommended Rob to me and so I arranged to meet up with him, I was impressed by his caring approach to my needs and that he wasn't going to be a sergeant major barking orders at me. The training has been hard but so rewarding and I like the way Rob gets to know you as a person and also gives advice on diet as well as providing a listening ear. I have had two 10 week courses and I can really notice the difference plus I am eating so much better. I continue to meet up with Rob once a month just to keep on track and feel motivated to continue on my healthy journey.